How to prepare waybill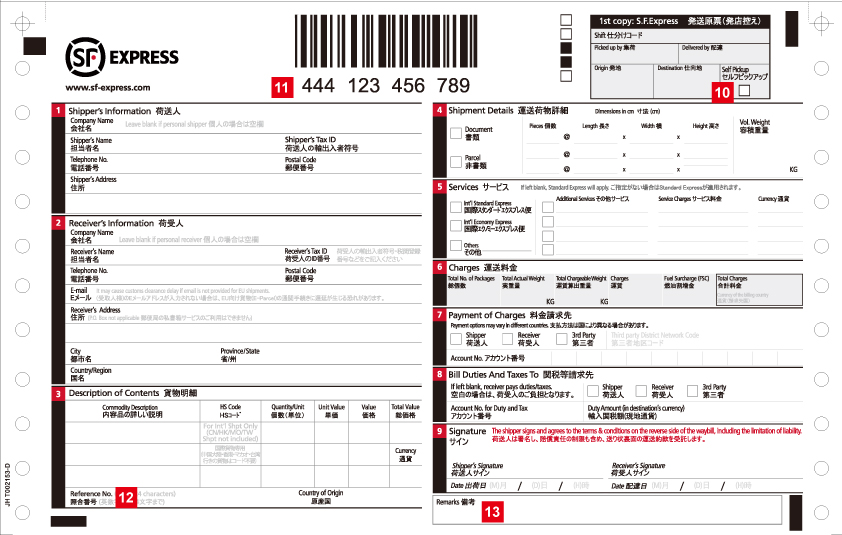 ①, ②, ③, ⑨ are required to be filled by customer.
④, ⑤, ⑥, ⑦, ⑧ are filled out only by SF.
The waybill is suitable for all outbound express in JP.
International waybill content should be compatible with invoice.
Please fill out the waybill clearly in English only. 
① Shipper information
Fill in the detailed information of Shipper(Company name/ Shipper's name/ Shipper's Tax ID(*if shipper hold it) /Tel No/ Postal code /Address)
② Consignee information
Fill in the detailed information of Consignee(Company name/Receiver's name/Receiver's Tax ID(*if receiver hold it)/ Tel No/Postal code/ Address, City, Province, Country)
Receiver's tax ID : Please fill out 10-digit CR code (registration number of importers and exporters) for shipments to China (Send to Taiwan only): It is better for you to provide receiver's tax ID to run smoothly import clearance. 
If receiver is company its department or person in charge should be fill in correctly.
③ Description of Contents
Please fill in the concrete product name, parts or material.Please do not write only  "PARTS" or "SAMPLE".
Please fill in each item
To do the customs smoothly, you have to fill in the detailed information of shipment such as description, quantity, unit price, total value, currency, and origin.
Currency should be filled with US dollar (USD), Japanese yen (JPY) or Chinese Renminbi (RMB: in case of consignee is in Chinese Mainland ONLY)
Declared Value for Customs: Please fill in the cost according to the sales price or replacement of goods for declaration to customs authorities. Declared value is required for non-commercial items as well.
If you send only documents please fill in "Document"
④ Shipment Details
Our service station staff will check and fill in this part.
⑤ Service
Please select our service you would like to apply for.
⑥ Charges
Please fill in total No. of Packages ONLY. Others will be done by our service station staff.
⑦ Payment of Charges
You can choose from Sipper, Receiver or 3rd Party.
Please fill in SF account No. if you would like to pay by this account
Even if you choose Receiver or 3rd party you will be demand on payment in case of they don't pay
⑧ Bill Duties And Taxes To
You can choose who pay duties and tax. In case of blank, receiver pays it.
When shipper's pay, please choose "Shipper" and fill in "DDP" in "Remarks"
⑨ Signature
Please check the SF terms and conditions on the back of waybill and please fill in the signature with shipping date.
⑩ Self-pickup
If you would like to pick up parcel by yourself please fill in "✔" in the box.
⑪ Air Way Bill No.
12 digits ID No. of your parcel and able to inquire or track by website or customer service.
⑫ Reference No. (Option) 
Please use this column for your convenience.
⑬ Remarks 
If you would like to pay custom duty and tax arising in receiver's country please fill in "DDP" and select shipper with ⑧.
Note:
SF is not response for Reference No.
Please attach invoice in English except for document. You can use any formats of invoice.