One Box One Rate for Ginza Service Point
Promotion Range : Japan
Promotion Period : 16.Jan.2020 - 31.Mar.2020
To celebrate the setup of Ginza Service Point in Tokyo, SF Express is launching "One Box One Rate, Direct Shipping to Hong Kong & Macau regions" campaign from 16th January – 31st March, 2020!
Customers will be offered 5 different sizes of SF boxes with fixed rates, pack their purchased items and pay for the box, then done! SF Express will do the rest of the work - deliver your shipments to your house in Hong Kong or Macau. Check the sizes of boxes and rates below: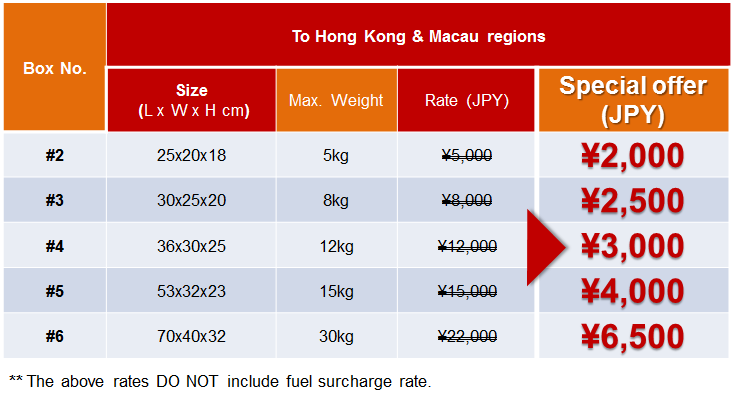 Campaign period
16th January – 31st March, 2020
Ginza Service Point Address
1F, Nakayama BuildingNo. 2, 3-11-5 Ginza, Chuo-ku, Tokyo
Service hours
18:00 – 22:00 (incl. weekends and public holidays)
Destination
To Hong Kong, Macau regions
How to ship?
1. Choose a box with a fixed shipping rate.
2. Pack the purchased items into the box. Make sure the actual weight of the shipment does not exceed the maximum weight.
3. Fill out SF AWB and invoice information.
4. Make payment at the counter.
Note: It is strongly suggested customers to check for Prohibited Items on SF Express website and make sure your shipments do not include prohibited items.
Scan below QR code for more enquiries.