Scheduling Free Door-to-Door Pickup
Schedule a pickup
Delivery Process
You can enjoy our service by calling our Customer Service Hotline. Here is the process of the shipment: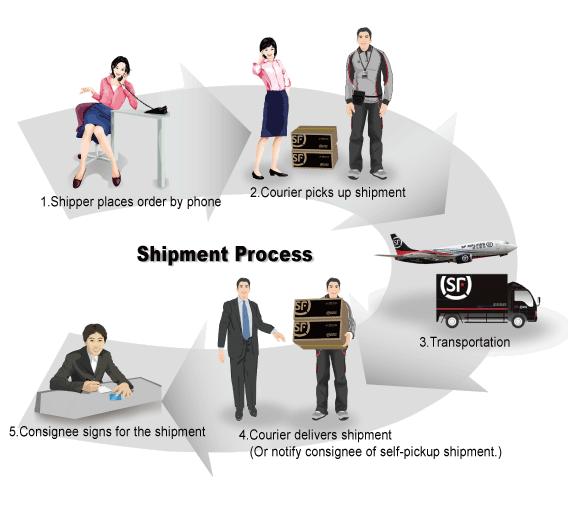 Place order
You may call our Customer Service Hotline at 0800 088 830 and contact our customer service representative to schedule the pickup service.
Shipment pick-up
You are suggested to pack your shipment before Courier arrived.
Delivery Process
You can track and trace your order via S.F .website
On-site Delivery
On-site delivery is provided from Monday to Friday. Delivery on Saturday will be arranged upon request; please state in the waybill remarks for Saturday delivery arrangement.
Shipment received by Consignee
Consignee signs for the shipment and the transit completed.
Prepare Shipment
To ensure a secure delivery process and to prevent your shipment from being damaged or lost, below packaging principles can help you to understand the importance of appropriate packaging and to improve your packaging quality to effectively decrease the possibility of damage.

Principle of Firm and Secured Packing

Firm and secured packing prevents loss or damage to your shipment; protects your shipment from moisture, friction, shock, and pressure / temperature changes; and prevents your shipment from hurting the operator or spilling at the transportation facilities.

Principle of Convenient Handling Packing

Your packaged good(s) should fit your shipment's nature, condition, and weight; the outer surface should be clean and dry with no odor or grease; and the outer surface should be smooth without any nails, hooks, spines, etc. for convenient handling.

Principle of Appropriate Packing

The packing and stuffing should be appropriated for the shipment's size, weight, and delivery method to prevent damage caused by insufficient packing material. 

Principle of Protective Packing

Protective packing includes protective material and buffer material and no space should be left inside the package. 

Principle of Fragile Protection

For ceramics, glasses, handicrafts, and any other fragile items, protective packaging should be used to prevent damage. 
S.F. Express will provide packing materials for free. For your self-packed items, we may have to strengthen the packing based on the actual condition of your parcels.
Prepare Waybill
In order to enhance shipment security and speed up customs clearance efficiency, please ready your waybill with accurate information.
For enquiries, please call our Customer Service Hotline at 0800 088 830 or visit www.sf-express.com.
    Without handwriting, online operation creates more convenience.
    Log in with your mobile phone number to enjoy personalized service.
    Enter the information from the waybill on the mobile screen.
    After making sure all information is correct, press "Send" to confirm.
    Attach the QR Code waybill to the package. Call the S.F. Customer Service Hotline or use the Self-Service Tool to make a delivery reservation.
*For more detailed instructions, please watch the video about how to use Scan To Ship.
Pickup Service
Our courier will provide door-to-door shipment collection service after you placed the order.
Our courier will verify the following three items before collecting your shipment:
Whether your shipment packaging comply with transportation requirements.
Whether your shipment's contents comply with the laws and export / transportation requirements.
Enquire Here [ Prohibited export items enquiry]
Enquire Here [ Prohibited air-freight items enquiry]
Enquire Here [ Prohibited road-freight items enquiry]
Whether shipment destination is within our service coverage.
Prof of Delivery
The consignee is required to sign the waybill upon receipt of shipment. The signed waybill will be uploaded to our system on the same day. Either your customer or you can check the updated status via our website.